As a Salesforce Marketing Cloud Administrator, your role is critical in ensuring the success of your organization's marketing initiatives. In 2023, there are many exciting new features and updates that a Salesforce Marketing Cloud Admin leverage to improve the effectiveness of marketing campaigns being run in the org. To help you stay ahead of the game, here is a list of 5 tips every Salesforce Marketing Cloud admin needs to know in 2023. 
Tip #1: Keep up-to-date!
Keeping up with the latest updates and features of Salesforce Marketing Cloud. The domain is constantly evolving, with new features and updates being released regularly. As an admin, it's important to stay up to date with the latest changes and enhancements to ensure that you're leveraging the platform to its full potential. Keep an eye on the Salesforce Marketing Cloud release notes and attend webinars and events like Dreamforce to learn about new features and updates. This is the 2023 release schedule from Salesforce, which can help you plan in advance!  
Tip #2: Let AI take care!
Artificial intelligence and machine learning are transforming the way marketers approach their campaigns. In Salesforce Marketing Cloud, you can leverage these technologies to gain insights into customer behavior, automate tasks, and deliver personalized experiences at scale. Make sure you're taking advantage of the AI and machine learning capabilities within the platform to optimize your marketing efforts. By AI, we mean features like Einstein Engagement Scoring in Salesforce CDP, Einstein Designer, Interaction Studio Templates, and Datorama Connectors.  
Here are some ways one can make use of the Einstein AI Suite in SFMC: 
Einstein Engagement Scoring: Score subscribers based on their engagement with your emails. You can use this score to create targeted campaigns that are tailored to each subscriber's engagement level.

 

Einstein Send Time Optimization: Determine the best time to send emails to each subscriber based on their engagement patterns. This can increase the likelihood that your emails will be opened and engaged with.

 

Einstein Content Selection: Automatically select the best content for each subscriber based on their engagement history and interests.

 

Einstein Copy Insights: Analyze your email content and provide suggestions for improving the messaging to increase engagement and conversions.

 

Einstein Engagement Frequency: Analyze a subscriber's engagement patterns and recommend the optimal frequency for sending emails to them.

 

Tip #3:
Implement a Comprehensive Data Management Strategy
Data is at the heart of effective marketing, and as an admin, it's your responsibility to ensure that your organization's data is accurate, complete, and up to date. Implement a comprehensive data management strategy that includes regular data cleansing, deduplication, and enrichment. This will not only improve the accuracy of your marketing campaigns but also enhance the overall customer experience. 
You can read our Case Study on how the SFMC Admins and Consultants helped this non-profit client clean up their data to streamline their contact list.  
Tip #4:
Streamline Your Processes
Automation Studio is a powerful tool within Salesforce Marketing Cloud that enables you to automate a wide range of marketing tasks. As an admin, you should be leveraging this tool to streamline your processes, reduce manual labor, and increase efficiency. Use Automation Studio to automate email sends, data imports, and more to free up your team's time for more strategic activities.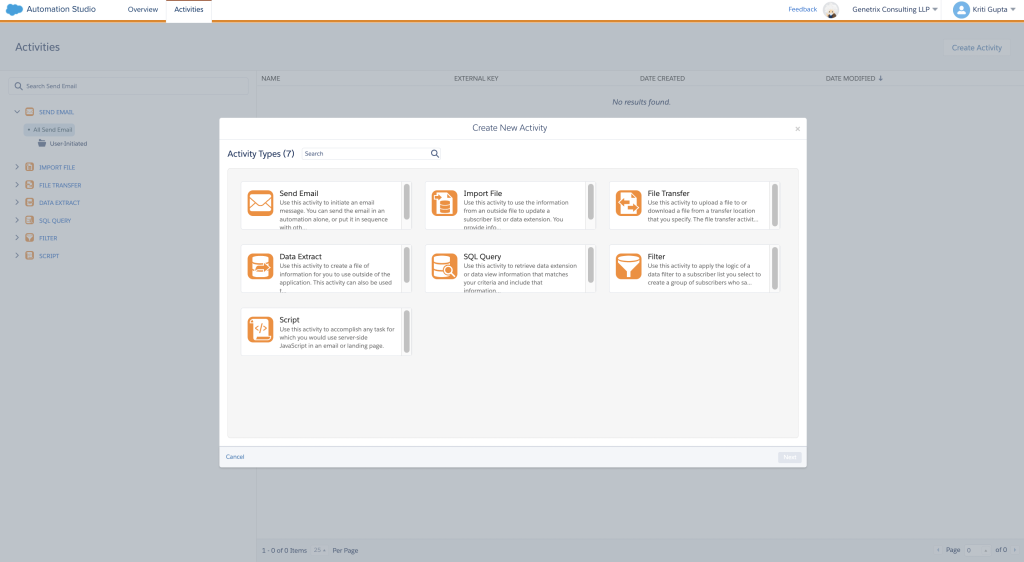 Tip #5: Focus on Deliverability
Deliverability is critical to the success of your email marketing campaigns. As an admin, you should be monitoring email deliverability closely and taking steps to improve it where necessary. This includes regularly cleaning your email lists, segmenting your audience, and implementing best practices for email content and design. 
In conclusion, being a successful Salesforce Marketing Cloud admin in 2023 requires staying up to date with the latest updates and features, leveraging AI and machine learning, and implementing a comprehensive data management strategy. 
Genetrix Technology has a team of highly experienced, Salesforce Certified Administrators that will help your business realize its true potential. Click on the button below to book an appointment with us!