The hospitality industry is highly competitive and requires constant efforts to maintain a steady flow of customers. In recent years, Salesforce and other channel management services have become increasingly crucial for the industry.
Salesforce Marketing Cloud not only makes customer management easier, but all the marketing requirements can also be taken care of on one platform. It allows you to manage and optimize your marketing campaigns across multiple channels- for example, email studio for email campaigns, social studio for social media campaigns, and mobile studio for mobile marketing. For the hospitality industry, Salesforce Marketing Cloud can be used to create targeted marketing campaigns that reach your ideal customers. You can segment your customers based on their preferences and behavior and create personalized messages that resonate with them. You could send a targeted email campaign to customers who have previously booked a spa treatment at your hotel, offering them a special discount on their next visit.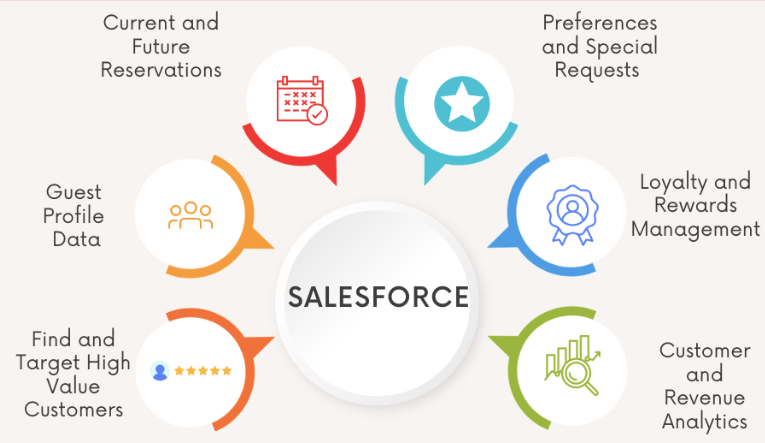 This blog will explore how services like Journey Builder, Content Builder, Contact Builder and Interaction Studio can help the hospitality industry.
Curating Content Using Content Builder: 
SFMC has the provision of creating and curating content on its own Content Builder. Designers can create highly interactive emails, landing pages, forms and surveys inside Marketing Cloud.
For the hospitality industry, Content Builder can be used to create different types of intake forms that can be used to gather information from the customers about their preferences or requirements. Apart from that various emails can be designed and deployed. A hospitality client has the regular need to send out emails welcoming their customers, updating them about their services, reminders for the stay and feedback emails after the stay has concluded.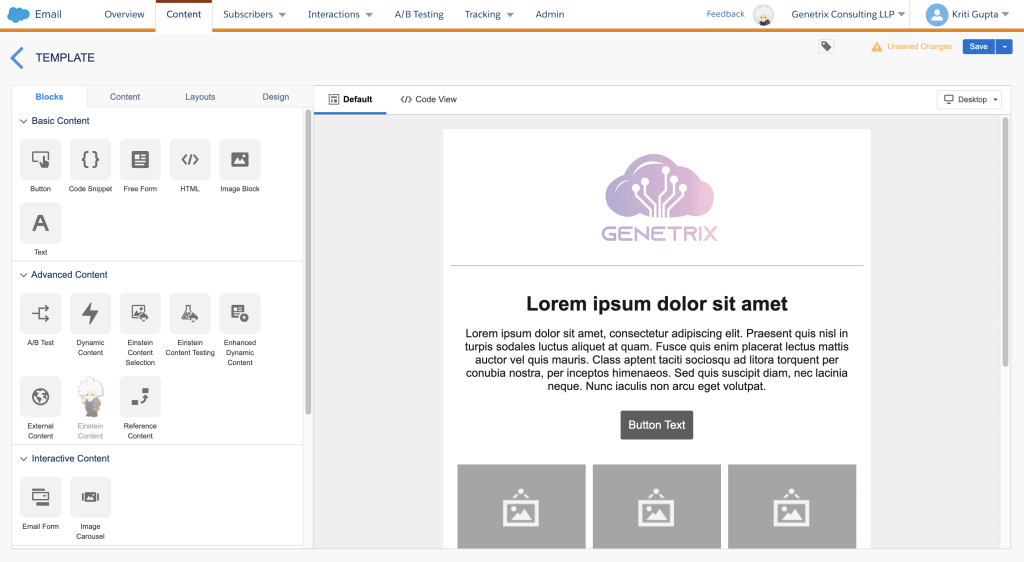 Managing Client Communication Using Journey Builder: 
Journey Builder is a tool offered in Salesforce Marketing Cloud that allows you to create personalized customer journeys. It enables you to map out each customer touchpoint and create custom guest experiences. Journey Builder helps you to build and optimize customer journeys that provide a seamless experience throughout the customer's lifecycle.
For the hospitality industry, Journey Builder can create personalized experiences for guests, from when they book their stay to when they check out. It can help you create automated emails and messages triggered based on the customer's behavior, such as welcome emails, upsell messages, and thank you notes. By providing personalized experiences for your guests, you can increase customer loyalty and drive repeat business.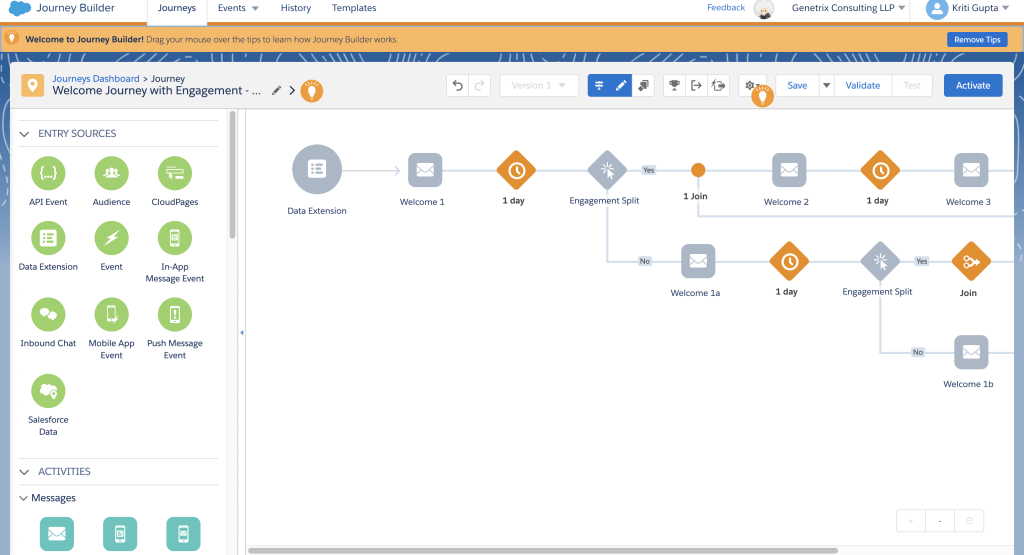 Structuring Data Using Contact Builder: 
Apart from communication, there is a huge and complicated database that needs to be maintained by a hospitality team. Salesforce Marketing Cloud provides Contact Builder which is a highly efficient data modeling tool. Data can be stored and relationships between different tables can be established here. Additionally, data import and export can be automated using Automation Studio. Since data is highly sensitive and dynamic, being updated frequently according to the customers' needs, a robust data structure has to be designed and built which takes care of the reservations, cancellations, and any modifications in the customer database.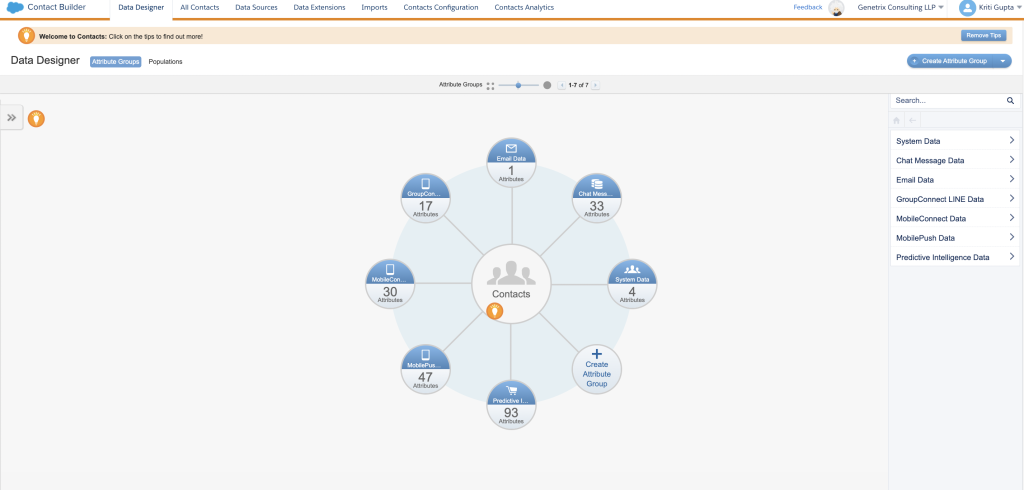 Engaging Client Using Interaction Studio ( Salesforce Marketing Cloud Personalization):  
1-to-1 client engagement has become the norm in the marketing industry these days. Salesforce Marketing Cloud provides a great tool to gauge client engagement and design campaigns accordingly. Interaction Studio (also called Personalization Studio) is an additional service that can be purchased along with SFMC. This helps with creating a 360-degree view of a customer and providing them with better services.
Hospitality clients can analyze what types of services are being preferred by a specific customer- whether they like to use the Spa service or the Sports facilities, whether they engage more with emails or with SMS- this helps design campaigns with increased efficiency.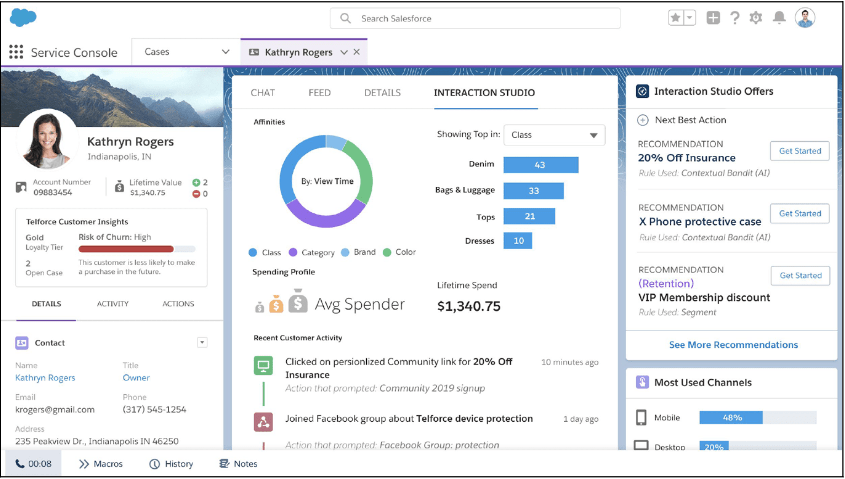 By leveraging these tools, hotels and other businesses in the hospitality industry can differentiate themselves from their competitors, increase customer loyalty, and drive constant business.
Conclusion
Salesforce Marketing Cloud benefits the leisure, hospitality, and travel industries since it can be tailored to fit the needs of B2B and B2C models, which are increasingly merging into one global marketplace.
Companies in this industry may develop and manage effective marketing campaigns with the help of SFMC's integrated marketing tools. They may cultivate consumer relationships by using the appropriate message in the proper tone and timing. Additionally, they can do all of this deftly, thanks to the strength of AI and the Big Data capabilities inherent in SFMC.
Because of this, SFMC is the top omnichannel marketing platform for the hospitality and leisure industries.
We will help you ensure that you leverage Salesforce solutions in your business by creating impressive experiences.
Send us an email on [email protected] or book a demo.