Introduction
Azure AD integrates seamlessly with various applications and services across the Microsoft ecosystem. This makes it easier to integrate Marketing Cloud with other Azure AD-enabled services, such as Microsoft 365, Dynamics 365, and other third-party applications, creating a unified ecosystem. 
Marketing Cloud Connect SSO with Azure AD simplifies user access, enhances security, improves productivity, and provides a centralized identity management solution, offering significant benefits to organizations using Salesforce Marketing Cloud. 

How SSO works
The service authenticates the access privileges for all the applications a user has rights to and requires no additional actions when switching between them. The application server gathers the user's credentials from a dedicated SSO policy server and checks the person against a user directory

Advantages of Using SSO
Single Sign-On (SSO) is a user authentication process that allows users to access multiple applications with one set of login credentials.  SSO has several benefits including: 
Increased Productivity: SSO reduces the time employees spend signing on and dealing with passwords, which increases their productivity.

 

Improved Security: SSO solutions provide centralized control of who has access to systems and the level of access each individual has SSO also reduces password fatigue because team members only need to remember a single username/password that grants them access to multiple systems.

 

Decreased IT Costs: SSO reduces IT costs by reducing the number of help desk calls related to password resets and account lockouts.

 

Improved Job Satisfaction for Employees: SSO reduces the number of passwords employees need to remember, which can improve their job satisfaction.

 
Enhanced Customer Experience: SSO can improve customer experience by allowing customers to access multiple applications with one set of login credentials.
Step by Step Guide to configure SSO
1. Login -> Azure Portal, select the Azure Active Directory service on the left navigation panel.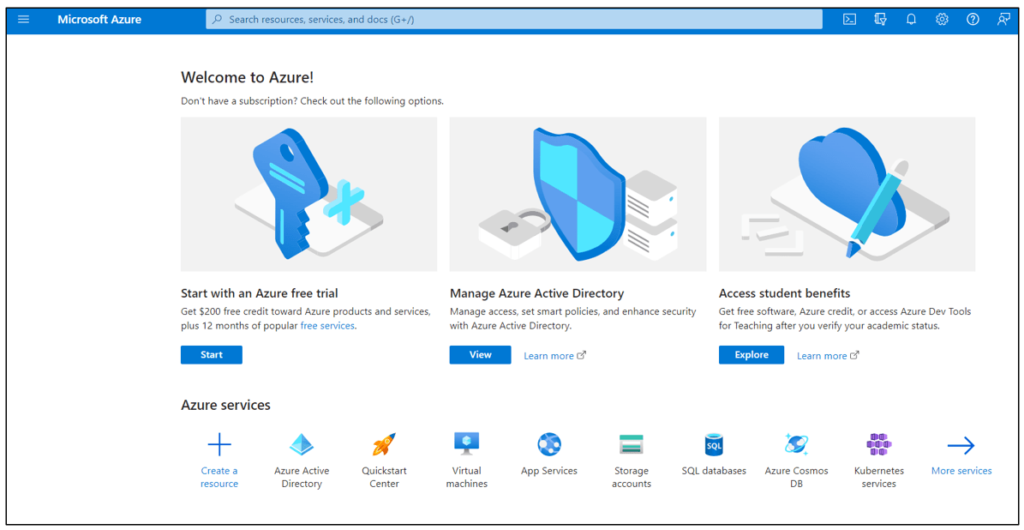 2.Navigate to Enterprise Applications and then select All Applications. 

3.Click the Create your own application button -> Provide Name (SFMC) -> Click Create 
4.Click on created Application -> SFMC -> Select Single Sign on -> Choose SAML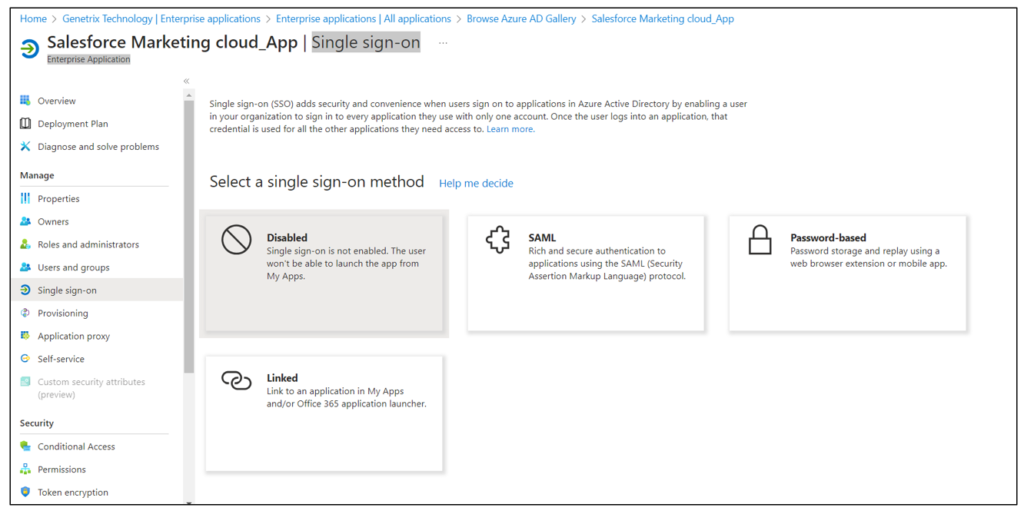 5.Upload metadata file from Navigate to Setup > Security Settings > SSO > and click the Download Metadata button to upload that file to Azure.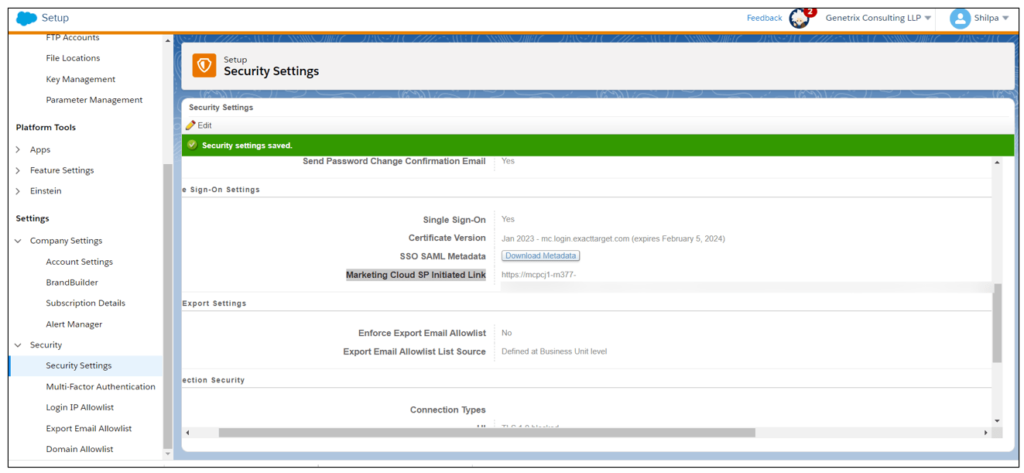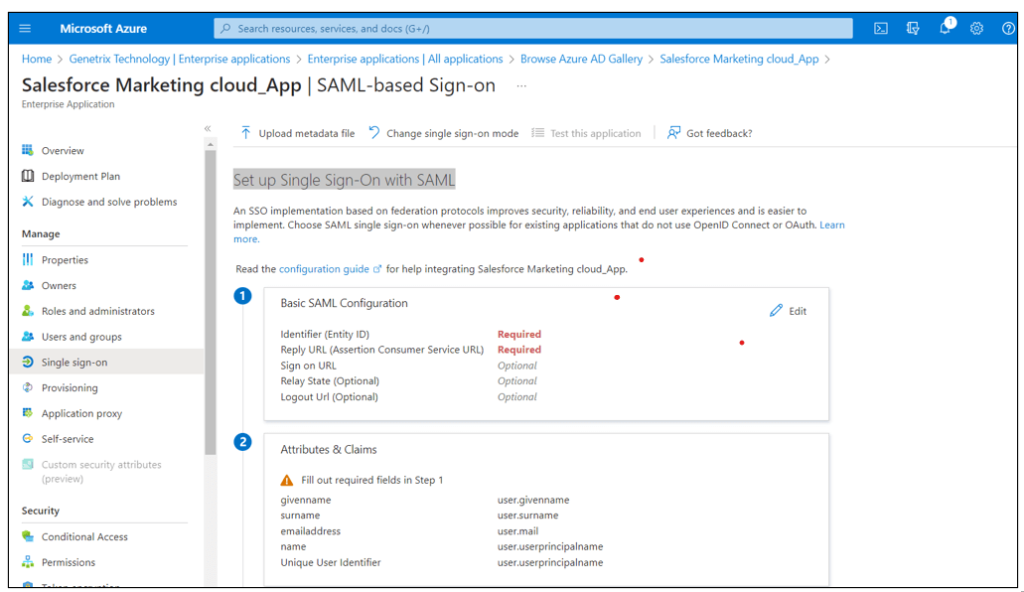 6. After Uploading metadata file click on Basic SMAL->Provide the Sign on URL-> Click on Add Attributes & Claims -> Unique User Identifier (Name ID) to Claim Name   -> Save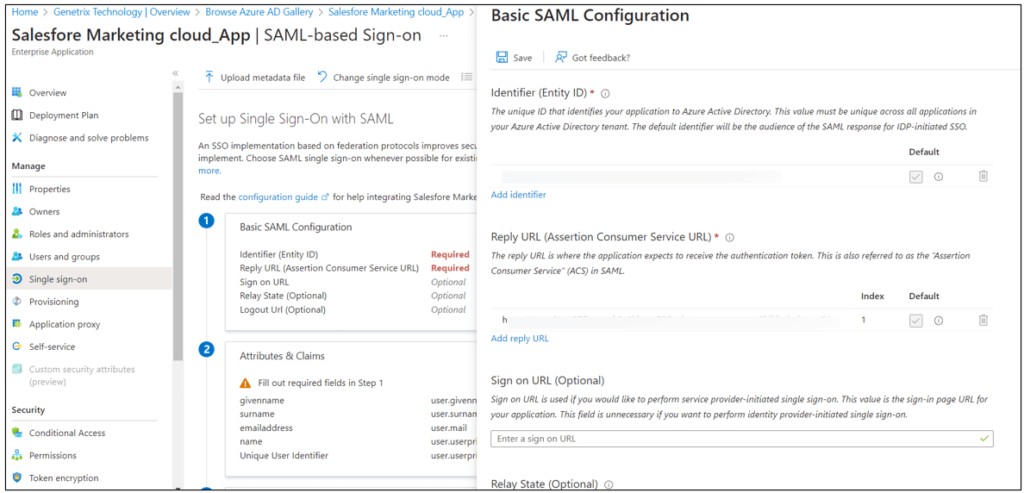 7. In SFMC -> Key Management, click Create to create a new SSO Key 
9. Provide a Name, such as Azure SSO Key 
10. Upload your Certificate from Azure Active Directory.  This is found under the Single Sign-On page under (Certificate (Base64) > Download)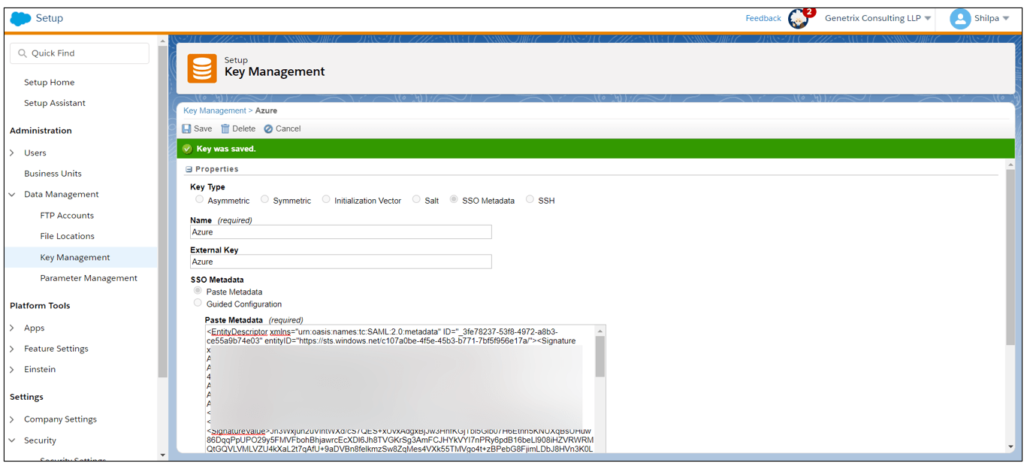 11. Create the User in SFMC – have SSO enabled.
12. Check the box "Allow Single Sign-On. 
13. Federation ID would need to match that of the user in Azure. This typically will be in the form of an email address/username. 
14. Add the Federation ID and save.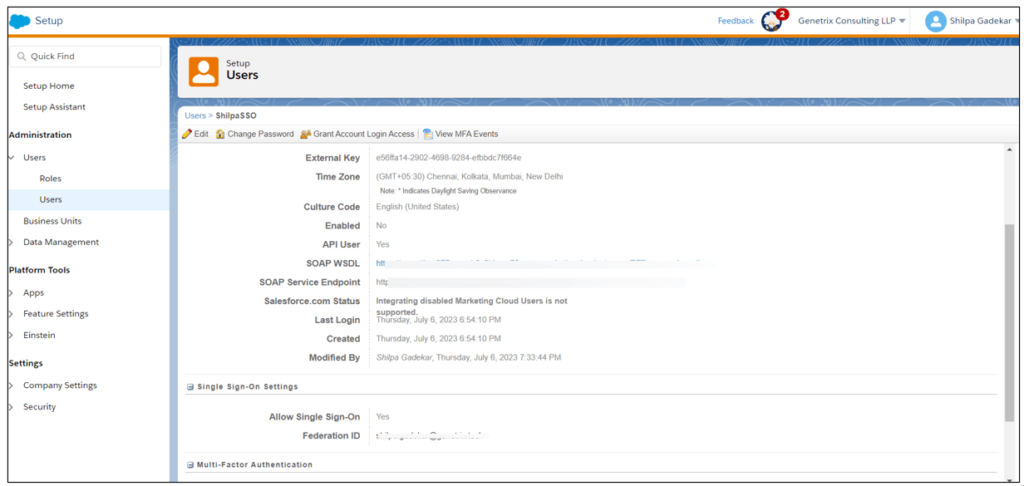 15. Test SSO Login with that User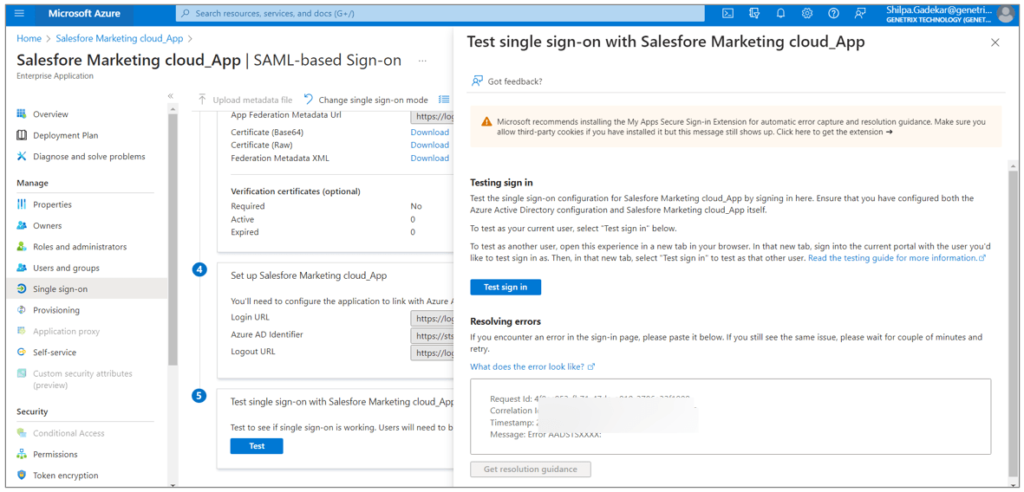 16. You can also Use to login SP Initiated link located in Setup > Security > Security Settings > SSO > SP Initiated link OR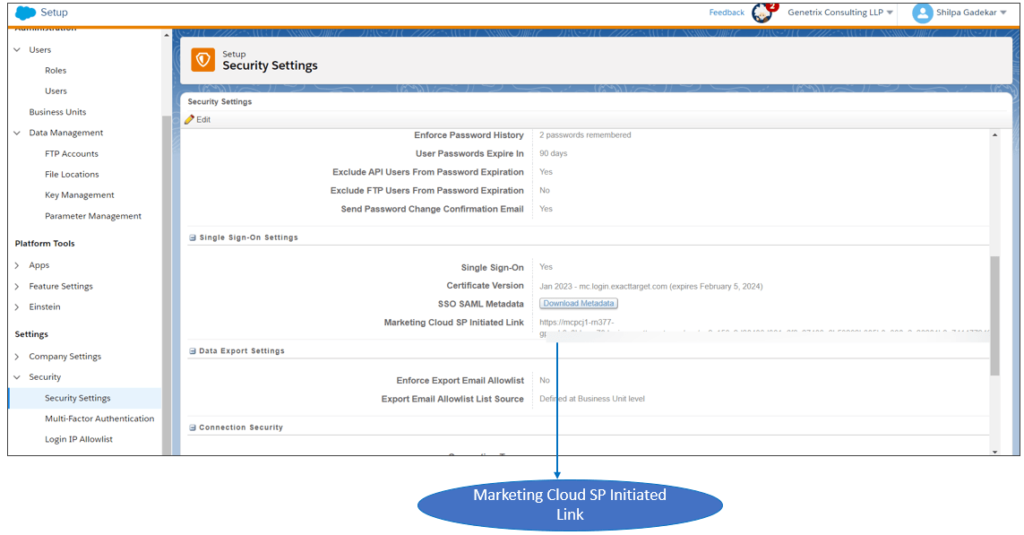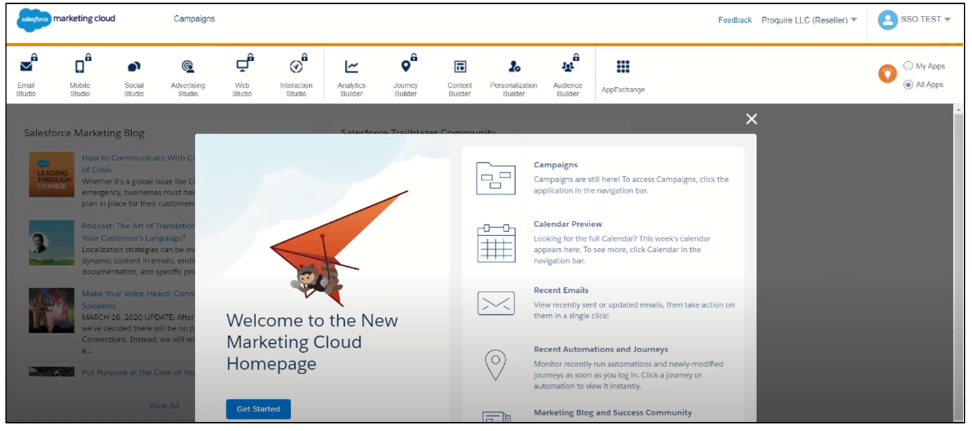 Conclusion
In conclusion, the implementation of Single Sign-On (SSO) for Salesforce Marketing Cloud proves to be a game-changer for organizations seeking to enhance user experience, bolster security, and streamline user access management. By integrating a robust SSO solution into the Marketing Cloud infrastructure, businesses can simplify the login process, enabling users to access multiple applications with a single set of credentials.
By providing a seamless, secure, and user-friendly experience, businesses can leverage SSO to harness the full potential of their marketing efforts while safeguarding sensitive data and strengthening their overall security posture. Embracing SSO is not just a trend but a crucial step towards modernizing and optimizing marketing operations in today's interconnected digital landscape.
To learn more about SSO implementation and other functionalities of Salesforce Marketing, click on the button to Contact us!